Gotbackup is a company owned by GVO that provides business services to a large range of customers in Webhosting and computer backup
Who is GVO
GVO Company, Inc. is a technology company that specializes in web hosting, internet marketing tools, and other online services. The acronym "GVO" stands for "Global Virtual Opportunities," which reflects the company's focus on providing global business solutions and opportunities in the digital space.
The CEO is Joel Therion and the COO is Mike Potvin Both are Canadians who moved the operation to Schertz Texas.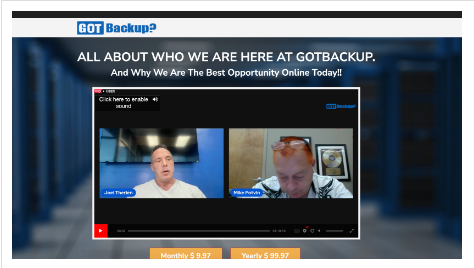 GVO offers a range of products and services designed to help individuals and businesses establish and grow their online presence. Some of their main offerings include web hosting services, email marketing software, video hosting, conferencing solutions and backup services
One of GVO's notable products is its web hosting service, which provides individuals and businesses with the necessary infrastructure and tools to host websites and online applications. They offer various hosting packages that cater to different needs and budgets.
Additionally, GVO provides internet marketing tools and resources to assist businesses in promoting their products or services online. This includes email marketing software for managing and sending targeted email campaigns, as well as video hosting and conferencing solutions for effective communication and collaboration.
While GVO has been known for its web hosting and internet marketing offerings, it's worth noting that the company's specific products and services may evolve or change over time. It's always a good idea to visit their official website or contact their customer support for the most up-to-date and accurate information about their offerings.
Their latest offering
In March-April 2023 they relaunched Gotbackup a product that has been around for some time but has been languishing in the background.
The original product was done with bought software and high-priced Data lines and electricity. The costs were high and the capacity was limited.
However, the product is really good so they decided to reinvent the wheel.
They had their own software written and bought a building in Texas. The location has abundant high-speed data access and is a popular hosting location for many large internationals.
They relaunch being debt free and targeting a very wide market with an expanded product.
What is Got backup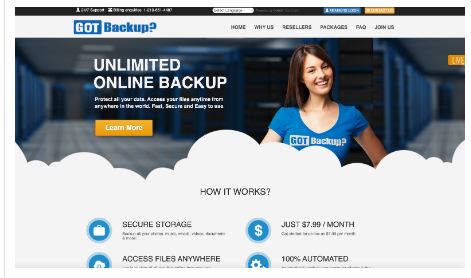 Backup Software: GotBackup provides software that allows users to select and back up their files and folders. The software is compatible with both Windows and Mac operating systems, providing flexibility for users on different platforms.
In June 2023 they included both Apple and Analogue mobile devices in the portfolio
Cloud Storage: Once the files are selected for backup, GotBackup securely stores them in the cloud. The cloud storage infrastructure ensures that data is protected and accessible from anywhere with an internet connection.
Data Encryption: GotBackup employs encryption technology to ensure the security and privacy of the backed-up data. This means that the files are encrypted before they leave the user's device and remain encrypted during storage in the cloud.
Automatic Backup: GotBackup offers an automatic backup feature that enables scheduled backups of selected files and folders. This eliminates the need for manual intervention and ensures that backups are performed regularly without user intervention.
File Recovery: In the event of data loss, GotBackup provides a straightforward file recovery process. Users can access their backed-up files through the software or web interface and restore them to their original location or an alternate location of their choice.
This includes a business opportunity
GotBackup also offers a business opportunity for individuals who wish to become affiliates and promote the service to others. Affiliates earn commissions for referring customers to GotBackup, making it a potential source of income for those interested in marketing and promoting online services.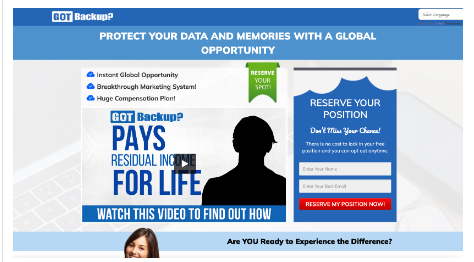 Full sales library available
Gotbackup has a full suite of products to assist any aspiring affiliate marketer to make the grade.
Pre-written emails ready to send out
Banners
Advertising copy
Social Media banners
And your own autoresponder included.
Finally and importantly full statistical data
A massive market opportunity

Every computer, Ipad and Mobile phone is a potential customer and wherever they are in the world.
The pricing model makes them market leaders and they are offering up to 3 times the storage capacity.

This is a straight-up product that does what it claims and does to take an arm and a leg to buy.
Nearly anyone can afford the $9.97 a month fee.
Conclusion
The concept of Gotbackup is excellent, the market broad and the return for those wanting to market the product is top-class.
Gotbackup enter the market debt free and has a long history as a service provider with over 20 years of experience
So longevity is assured.
I recommend Gotbackup to you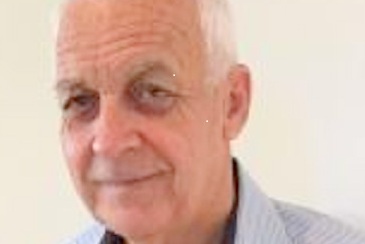 Gotbackup is a company owned by GVO, by Peter Hanley
Got backup review and income strategy